IELTS Writing Task 1 | Export Performance
IELTS Writing Task 1 | Export Performance

?Instructions:
The chart below gives some information about Someland's main export performances in 2005, 2015, and its future prospect in 2025.
Write a report for a university lecturer describing the information delineated in the graph.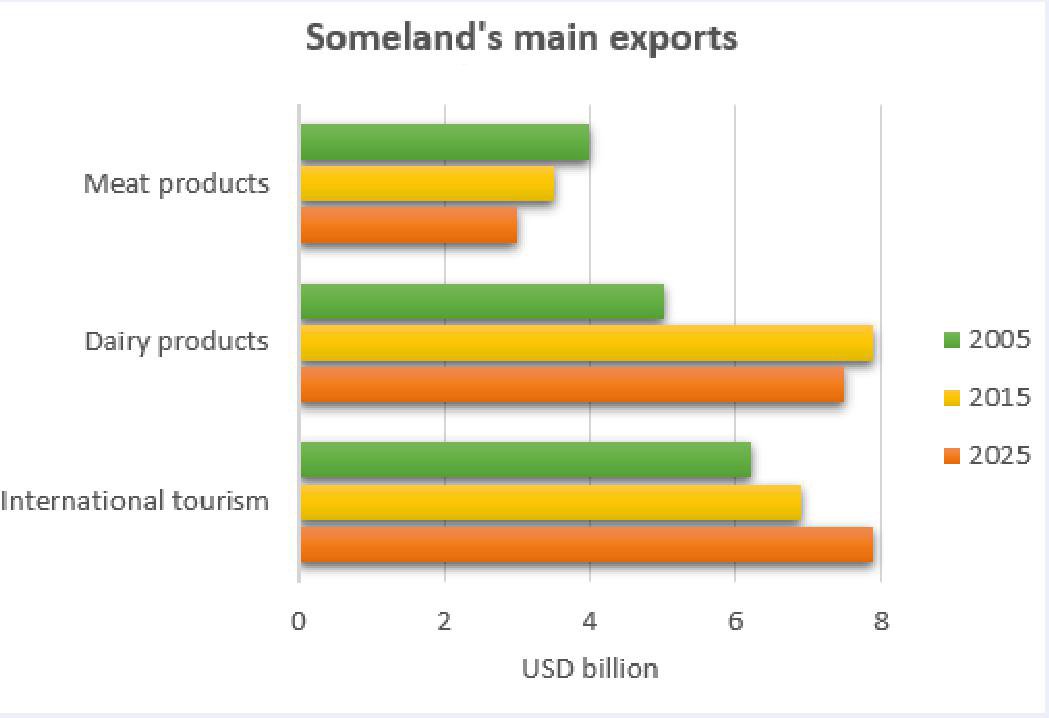 ---
? Essayist: Arash
The bar chart below shows some information about Someland's main export performances in 2005, 2015, and its future prospect in 2025.
There is a slight decline in meat products between these years from four billion dollars to approximately three billion dollars. On the other hand, there is a considerable increase in international tourism from about six billion dollars in 2005 to around eight billion dollars in 2025 which we can come to a conclusion that international tourism has a bright future based on these statistics. In addition, we can see clearly that there is a significant fluctuation in dairy products in these years. There is a noticeable increase from 2005 to 2015. However, there has been a downward trend after this period of time.
To conclude, we can realize that Someland should invest more in international tourism because its future is clear and it will increase Someland's profits. They can also change their strategies for meat and dairy products in order to get more profits.
---
✅ Examiner's Notes:
Paragraph 2:

Line 2: come to this conclusion that
Line 3: … international tourism must have a …
Line 3: It's better to say: there is significant fluctuation in

Chart Analysis:
Choice of Words (Diction): Good
Coherence: Good
Cohesion: Great
Grammar: Good
Reasoning: Great
Word Count: "164" Great
---
General Information
You have 20 minutes for this task.
The IELTS Writing Task 1 is an information transfer task, which requires you to write an accurate account of some information presented in graphic form, for example, a graph, table, or some form of a pictorial representation of data.
Your addressee is a university lecturer.
It is important to read the instructions closely to specify the main focus of your report.
Planning Your Task
Make sure to spend around 3 to 5 minutes planning and organizing your answer. That is to say, do NOT start writing immediately. During this pre-writing time, try to analyze the delineated data carefully.
In the exam, you can write notes on the illustration and in a clearly defined space on the front of your answer paper.
Your notes could be in abbreviated forms in order to save time. Remember that your notes are personal and won't be assessed.
During planning, decide which significant details will be discussed to reflect the task requirements.
While planning your task, you should determine the time period so that the correct tense is used.
How to Start Writing?
It is recommended that you start your IELTS Writing Task 1 with a restatement of the keywords in the instructions. In so doing, you will give a broad overview of the details in the pictorial form.
You should write one clear sentence to introduce the illustration.
After your general introduction, you should write one or two sentences to indicate the relationships between the data or demonstrate a trend.
How to Analyze the Graph?
Concluding Paragraph
Since the data with a pictorial form are not accessible to your addressee, who is a university lecturer, you ought to come to a conclusion to make sense of the whole data. In your concluding paragraph, you can use the notes you took while analyzing and organizing the data in your pre-writing activity lasting for 3 to 5 minutes.
You should write one sentence to conclude your writing.
Important Tips
Verbs to Describe the Data
Decline

⬇️

Decrease

⬇️

Fall

⬇️

Grow

⬆️

Increase

⬆️

Rise

⬆️
Intensifiers to Describe the Data
Dramatically
Gradually
Moderately
Rapidly
Sharply
Slightly
Slowly
Steadily
Another Dominant Structure
There
Article
Adjective
Descriptive Noun
Prepositional Phrase (in what)

There is
There was
There has been
There will be

a(n)

ascending
considerable
descending
downward
dramatic
gradual
insignificant
moderate
noticeable
sharp
significant
slight
slow
steady
upward

decline
drop
fall
grow
increase
rise

in something
IELTS Writing Task 1 | Export Performance
IELTS Writing Task 1 | Export Performance