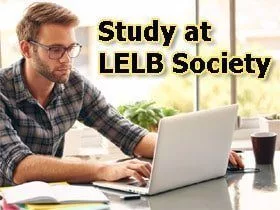 Study at LELB Society
LELB Society is an online bilingual academy of English and Persian with 120 happy students worldwide. Join our online classes, study 3,900 lessons with videos, and talk and write to your teachers anytime with our full support 24/7.
Why study at LLEB Society?
---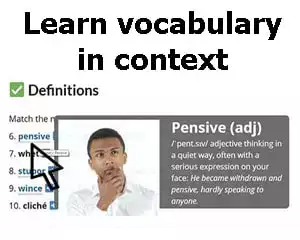 Learn advanced vocabulary for IELTS, TOEFL and GRE with definitions, images, synonyms, antonyms, text-to-speech functionality, parts of speech, and in real context. Practice reading and listening skills and improve your academic vocabulary at the same time. In fact, LELB Society is like Wikipedia for English and Persian learners to learn languages in real context with multimedia and visual flashcards.
Today's Visual Word in Context
Rejuvenate Definition in Context with Images

Rejuvenate definition in context with images and synonyms from the book, Vocabulary for the College-Bound Student. Learn the word, rejuvenate, in short real sentences with parts of speech and text-to-speech functionality. /rɪˈdʒuː.vən.eɪt/ (verb) Rejuvenate definition to make a person, organization, system, etc. younger and more effective or modern, refresh, revive, renew, revitalize, rehabilitate, update, modernize, …

Read more
---
داستان فارسی پند پدر برای آموزش زبان فارسی

داستان فارسی پند پدر به فرزندان برای آموزش زبان فارسی به کودکان و نوجوانان و یادگیری واژگان فارسی در متن به همراه ویدیو و پادکست. این داستان فارسی به شما کمک می کند تا با تلفظ درست واژگان فارسی و تمرین روخوانی فارسی آشنا شوید. نسخه انگلیسی داستان فارسی پند پدر برای خواندن نسخه انگلیسی …

Read more

آموزش زبان فارسی درباره وسایل ارتباط جمعی

آموزش زبان فارسی درباره تاریخچه وسایل ارتباط جمعی برای غیر فارسی زبانان با استفاده از مطالب علمی و آموزنده مناسب برای آموزش زبان فارسی به بزرگسالان و نوجوانان ویدیوی درس وسایل ارتباط جمعی علامت دود برای ارتباط تاریخچه وسایل ارتباط جمعی به هزاران سال پیش برمی گردد. در آن زمان، مردم با درست کردن آتش …

Read more

آموزش زبان فارسی درباره بلایای طبیعی با ویدیو

آموزش زبان فارسی به بزرگسالان و نوجوانان غیر فارسی زبان درباره بلایای طبیعی به همراه ویدیو و پادکست و تمرین واژگان فارسی در متن به همراه خواندن و درک مطلب بر اساس مطالب علمی در زبان فارسی ویدیو درس بلایای طبیعی در فارسی آتشفشان – Volcano آتشفشان وقتی اتفاق می افتد که از نوک کوه …

Read more
---
Practice the 4 skills with our newest lessons
Metaverse – Reading Practice with Vocabulary in Context

Practice reading and listening comprehension on Metaverse and expand your academic vocabulary in context. Watch the embedded video as a documentary on the Metaverse. You can also select any text and listen to the selected text to improve your listening comprehension. Listening practice Reading practice What is the metaverse? It's a combination of multiple elements …

Read more
The Prison of Your Mind – English Presentation

The Prison of Your Mind – English Presentation by Dr. Sean Stephenson at TED.com with selected reading and illustrated vocabulary flashcards to improve your English and brush up your life Source of image: TED.com Listening practice Lecturer: Sean Stephenson Reading practice Never call yourself names. Calling yourself a name is reducing yourself from a human to a …

Read more
Sport at School Essay for IELTS + Analysis

Sport at school essay for IELTS with complete analysis and scoring submitted to us by our students with full essay model. Study this sample IELTS essay on sport at school together with scoring and feedback. Send us your IELTS essays …

Read more
Practice speaking and writing with challenging questions in English in our English Conversation Questions forum. Interact with your teacher and the other site members and share your opinions with them. We also correct all of your English mistakes and errors so that you would improve your English practically. See the list of all forums.
Ancient Rome Facts – English Documentary

An English documentary about the ancient Rome facts with a video + full video transcript to practice listening and reading comprehension at the same time. You can also learn advanced vocabulary in real context about the ancient Rome facts. Source of documentary: National Geographic YouTube channel Listening comprehension on Ancient Rome facts Reading comprehension on …

Read more
The Father and His Sons Best English Tales

The Father And His Sons is an English short story or fable from Aesop to practice reading and listening comprehension in English. You can also improve your advanced vocabulary in context with images. Source of story: Gutenberg Project at www.gutenberg.org Video of The Father and His Sons The Father and His Sons A father had …

Read more
New Comments
آفرین کیان جان. فقط پاسخ سوال ۴، چوپان را در قفس شیر انداختند تا او را بخورد.

۱.همیشه اول باید درست فکر کنیم بعد تصمیم بگیریم. ۲-تیغ ، زندان ، تعجب کردن ، شجاعت ، لمس کردن…

You're right. This is because of the old-fashioned and literary style of this fable. In addition, sometimes we change the…

Hi Armaghan. No sooner said than done = immediately It means the act of saying and doing something happens at…