LELB Society: A Bilingual Academy of English & Persian
LELB Society is an online bilingual academy of English and Persian with 120 happy students worldwide. Join our online classes, study 4,100+ lessons with videos, and talk and write to your teachers anytime with our full support 24/7.
"Online classes + self-study through asynchronous learning"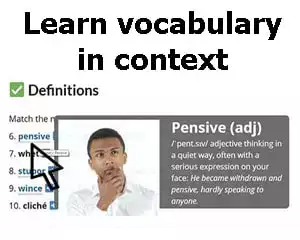 Learn advanced vocabulary for IELTS, TOEFL and GRE with definitions, images, synonyms, antonyms, text-to-speech functionality, parts of speech, and in real context. Practice reading and listening skills and improve your academic vocabulary at the same time. In fact, LELB Society is like Wikipedia for English and Persian learners to learn languages in real context with multimedia and visual flashcards.
Join LELB Society's Students
New Comments
Such a very influential and moving story, which is also true. Congratulations on your staggering success! — Feedback * one…

Thank you for your comment, Soroosh. scared from = scared of. So you should write: scared of darkness / dark…

Hi Soroosh, Yes, I knew about that, and I think this point has been made in the transcript of this…

I see what you mean and I agree with you. I didn't get the meaning of 'roe' in your comment,…

بله، درست گفتید. راستگویی صفت بسیار خوب و با ارزشی است. در درس فارسی زیر، شما می توانید برای مطالعه…