Science Qualifications IELTS Writing Task 1
Visual data adopted from https://www.ielts-exam.net/
Instructions:
The chart below gives information about science qualifications held by people in two countries.
Summarize the information by selecting and reporting the main features, and make comparisons where relevant.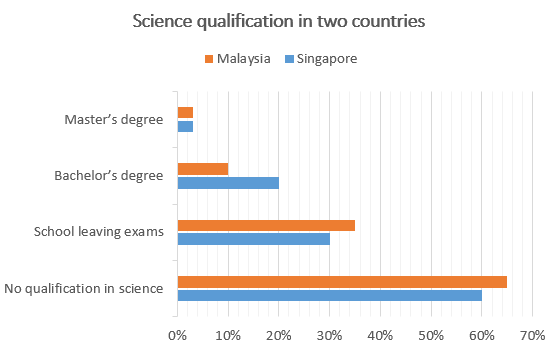 ---
LELB Society's Student: Sasan
The chart demonstrates the percentages of people who have different science qualifications in two countries, namely Singapore and Malaysia.
Generally, it can be seen that in both nations smaller groups of people go through higher levels of education.
Unfortunately, the people who have no qualifications constitute a large group of people in Singapore and Malaysia((you could add: to be more precise)), at 60% and 65% respectively. The second group of people who have school leaving qualifications accounts for 30% and 35% of people in Singapore and Malaysia approximately. Furthermore, when it comes to bachelor's degree((degree holders)), Singapore overtakes Malaysia, making up 20% and 10% of people in turn. Turning to the tiny group of people who have master's degree((degrees)), they compose 3% of the population((the whole / entire population)) in both countries.
---
Examiner's Notes:
Visual Data Analysis:
Choice of Words (Diction): Good
Coherence: Great
Cohesion: Great
Grammar: Excellent
Reasoning:
Word Count: "121" Insufficient number of words
---