Horoscope – IELTS Speaking Practice
Horoscope – IELTS Speaking Practice
Remaining Time to the Class:
[wpdevart_countdown text_for_day="Days" text_for_hour="Hours" text_for_minut="Minutes" text_for_second="Seconds" countdown_end_type="time" end_date="24-09-2016 23:59″ start_time="1474755973″ end_time="3,19,5″ action_end_time="show_text" content_position="center" top_ditance="10″ bottom_distance="10″ ]This class is over.[/wpdevart_countdown]
?

Listen to this recorded class:
---
? Class Rules:
? This class is FREE for all.
⏰ Class Time: Wednesday, September 28, 2016, from 9:00 to 10:00 pm (Iran)

This FREE class is held on Discord. Download and install Discord on your device, then join our Discord server to attend this FREE class.
Your 2 assignments that must be completed 24 hours before the class, i.e. until Tuesday, 9:00 pm (Iran):

Raise a question about the topic of the next session and leave it in the blue comment form at the bottom of the page.
---
? Relevant Audio / Video File:
Watch or listen to the following video/audio file in conjunction with the topic being discussed and try to answer the questions about it.
⁉️ Questions about the video/audio file:
Which sign of the zodiac were you born under?
Did you find the information in the presentation correct about your own horoscope?
Do you think you can modify your zodiac-related characteristics, or do you consider them to be unchangeable?
---
? Related Idioms and Expressions:
Astrology
Horoscope
Zodiac
---
? ? Argue for/against:
Please take an either positive or negative position to the statement below. You cannot be neutral. If all students have the same idea, the teacher will play devil's advocate to have a heated argument.
Do you think you can modify your zodiac-related characteristics?

---
? Photo Scanning:
Please examine the photo below and try to come up with as many reasons as you can in support of the following statement:
The lady is embracing whatever the palm reader tells her.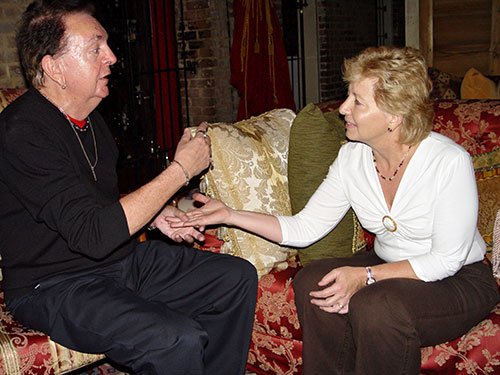 ---
? Reaching a Conclusion:
At the end of each session, we try to come to an informed conclusion on the selected issue.
The students are expected to take notes during the class and use their notes to reach a conclusion at the end of each session in around 2 minutes.
---
? Call for Feedback:
Please help us to improve the quality of this class and our online community (LELB Society) by expressing your precious ideas about this question:
Do you think it is necessary for the teacher to be constantly present in the online community, or you think he/she should only be moderately present in the online community, especially when academically solicited?

---