Do you want to know the best Google Chrome extensions for students to become more productive in learning? In this article, we're going to introduce you 10 best Chrome extensions that can guarantee a much better user experience (UX) especially for students of second or foreign languages.
Table of Contents / فهرست مطالب
Watch this video on Chrome extensions for students
What are Google Chrome extensions?
There are several popular web browsers, such as Google Chrome, Microsoft Edge, Mozilla FireFox, Opera, Safari, and others. However, the most popular of all is Google Chrome, which is extremely fast, secure and easy to use. Although Google Chrome is already great, there are tons of extensions available in the Chrome Web Store.
These extensions are relatively light software programs that can expand the functionality of Google Chrome, and accordingly, improve your User Experience depending on how you use this popular web browser. Please note that the Chrome extensions for students that are presented in this article are highly recommended to students of second or foreign languages.
LELB Society is an online academy of English and Persian with over 150 students (March of 2023) all around the world. Our students can perfectly maximize their educational experience by installing some or all of the following chrome extensions for students. You can also use the comment box at the end of this post to introduce your best picks if they've not been mentioned here.
Although LELB Society has the most advanced and comprehensive picture dictionary of academic and abstract words to learn English vocabulary with pictures, we believe the Google Dictionary extension is literally a must for all advanced ESL students. With this extension installed on your browser, you can select any single word in context by double-clicking on each word.
By selecting any word in a passage or paragraph, you can read the definition of the selected word together with its humanlike pronunciation based on tooltip technology that opens on the same webpage in a small yellow box. Using this extension, you don't need to check any unknown word up in your dictionary for meaning and pronunciation. Therefore, you can perfectly enjoy an uninterrupted and smooth reading experience.
Read Aloud
A successful English learner should practice all the 4 language skills naturally and interactively. Reading a lot of articles on the web can definitely improve your reading comprehension, but what about your listening skill? With Read Aloud Google Chrome extension, which is a text-to-speech software program, you can select any text on any webpage and listen to the selected text in a natural voice.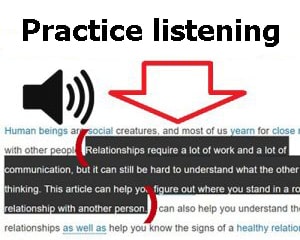 To select any single word, simply double-click on that, and to select an entire paragraph, just click on any word in the paragraph 3 times without any interruption. You can also select any text on any webpage with your mouse if it's more convenient to you. Although Read Aloud extension comes with various voices, I personally believe  Google US English is the best and most natural voice to pick. To select this natural voice, just go to the options page of this chrome extension.
To improve your reading and listening comprehension almost at the same time, we recommend you first select any paragraph and listen to it before starting to read it. To make the installed machine start reading out the selected text, you can simply right-click any selected text, and choose Read Aloud any selected text on the context menu. You can also decrease or increase the speed of this Chrome extension in relation to your proficiency level in listening comprehension.
Being a visually impaired person, Dr. Mohammad Hossein Hariri Asl, the author of this article and the founder of LELB Society, uses the Read Aloud extension a lot to avoid overusing his right eye, which is his only semi-sighted eye. As a matter of fact, this extension is like Windows narrator functioning as a screen reader for people with visual disabilities or low vision.
Grammarly for Chrome
Grammarly for Chrome is the best extension to check your grammar, spelling, and punctuation mistakes in real time. Even the free version of Grammarly is ideal for most language learners. Grammarly can help you tremendously while writing in our comment boxes and forums to practice asynchronous learning.
You can turn on Google Chrome spell check without installing Grammarly if you don't need to check your grammar mistakes. To turn on Google Chrome spell check, on your Google Chrome browser, go to Settings, and Languages. Then on the right side, simply turn on the spell check option. You can also enable this option for other languages like the Persian language which is my mother tongue.
Beanote Annotator
One of the best Google Chrome extensions for students and teachers to take notes on webpages and highlight text is Beanote. With this extension installed, you can select any text on any webpage, right-click the selected text, and choose Beanote – Sticker Notes on the context menu. An easier way to take notes and highlight is through the small black window that pops up after selecting any text.
This small window based on tooltip technology includes 3 items. The first one on the left is a highlighter that supports 4 different colors like yellow, green, blue, and pink. The second item in the middle is to create sticker notes on any selected text. And finally, the last item on the right is to search any selected text on Google. There are many other highlighters in Chrome Web Store. However, I believe Beanote and the other 2 extensions listed below are the best picks to use:
Google Translate is known to almost every internet user these days because it can provide us with machine translation, which is getting better and better over time. However, to use machine translation on Google, you should go to Google Translate page directly, which is obviously not very convenient. Instead of visiting this page again and again, you can simply install Google Translate extension.
Upon installation, you can select any text and then right-click the selected text. Then on the context menu, simply select Google Translate, and this machine automatically starts detecting the source language. Afterwards, you can choose the target language into which the selected text should be translated.
I should make it clear that at LELB Society, we rarely use translation to teach English or Persian, and this point has clearly been made on our Disclaimers page. However, our students can install and use Google Translate extension as a last resort if other approaches fail to meet their academic needs.
SimilarWeb
As an advanced ESL student or teacher, you need to conduct research from time to time. Although we're living the era of information and technology, we need to admit that some information on the internet is actually misinformation. As a result, you need to use the most reliable sources of information on the web.
SimilarWeb is one of the best Chrome extensions for students, teachers, and researchers to check and filter out the most trustworthy and salient online resources. Being a traffic rank, website analysis, and SEO tool, SimilarWeb can show you some important metrics about any website you browse on the internet, including global rank, country rank, category rank, bounce rate, average visit duration, monthly visits, pages per visit, and so forth.
Being one of the best alternatives to the retired Alexa SEO toolkit, SimilarWeb together with its twin software, Similar Sites, are available free to those who first like to know which sources they are reading. Now it's time to check LELB Society metrics on SimilarWeb to test the accuracy of the information you're reading right now.
Dark Mode
The average visit duration of each user at LELB Society is over 1 hour estimated by SimilarWeb.com. This extended period of time can potentially strain your eyes. To prevent that, we encourage you to install Dark Mode extension in order to turn the white space in the background of any webpage into dark, particularly when you browse the internet at night.
As a visually handicapped person, I often use this Chrome extension especially at night together with Windows Night Light, which is found in Windows Settings, Display, and Night Light. These 2 software programs will minimize the transmission of blue light from your screen, thus lowering the level of your alertness and making you ready to go to bed.
AdBlock Plus
Have you ever experienced browsing a webpage that is packed with so many unsolicited ads? This is a very common issue these days because a great deal of these websites rely on advertisement as the main source of income. If you don't like to see these ads, particularly on YouTube, you can install AdBlock Plus extension.
It should also be noted that some highly popular websites, such as forbes.com, do not allow any user to read their posts with AdBlock enabled. Therefore, to read their articles and content, you should temporarily disable this Chrome extension. Nevertheless, I believe AdBlock Plus is one of the most useful Google Chrome extensions for students and teachers in the world of unwanted advertisement.
AddToAny: Share anywhere
Do you believe that sharing is caring? If you do, then you can install AddToAny Chrome extension to your browser to share your favorite content at LELB Society with your friends easily. This is particularly useful if you are an author or teacher at LELB Society and would like to share your own published articles and promote your content.
Study our guest posting guidelines for the LELB Society blog if you like to join the team of our authors or teachers and publish your articles in your own name. Although there are many WordPress plugins for sharing buttons, we've decided not to use any plugin particularly for this purpose to provide 100% website optimization for our students.
Pinterest Save Button
Although AddToAny share buttons include Pinterest button as well, I believe our students can make the most of Pinterest Save Button Chrome extension because with this extension installed, you can save any picture on any webpage to your Pinterest account with one single click without leaving the main webpage. This is highly recommended to our students because LELB Society has the most comprehensive visual dictionary and thesaurus of advanced words to learn English vocabulary with pictures in real context.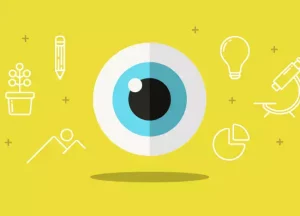 You can check the growing category of English vocabulary in context with images at LELB Society, and save the featured image or post thumbnail of each vocabulary item to your Pinterest account in separate boards with the Pinterest Save Button extension. After a while, you'll notice that you Pinterest account has turned into a useful collection or album of visual words. To get a better understanding of this point, you can review LELB Society Pinterest account.
I hope you found this article on best 10 Google Chrome extensions for students and teachers useful. Please express your opinions and feedback in the comment form below and let us know if we've missed any important Chrome extension.
Voice In – Speech-To-Text Dictation
Voice In – Speech-To-Text Dictation is one of the best Google Chrome extensions for students to experience and enjoy voice typing. With this extension installed on your desktop, LELB Society's members and students can easily leave comments in our asynchronous channels of communication by speaking into the microphone instead of typing.
After installing this extension, you can pin it displayed as a microphone icon to the extensions bar on Google Chrome. Then select any comment box where you need to leave comments or replies. To activate voice typing, you need to either click on the mic icon on the extensions bar or right-click in the typing area and select 'Start Dictation'.
Remember that your atmosphere must be quiet and you should speak clearly, slowly and accurately to get the best results. Voice typing is highly recommended to LELB Society's students — either English or Persian — because our students can perfectly measure their own proficiency in pronunciation. Furthermore, people with low vision or visual impairment like Dr. Mohammad Hossein Hariri Asl can greatly take advantage of this extension.
Gboard – The Google Keyboard
If you prefer to use your mobile device powered by Android, you can install the Gboard app on Google Play to practice voice typing on your smartphone. As a visually impaired person, I personally use this Android app a lot when I'm not home and have to chat with our registered students on WhatsApp, Telegram, our installed live chat, etc. This is because typing on smartphones is not easy for people with low vision.
Using ChatGPT for learning languages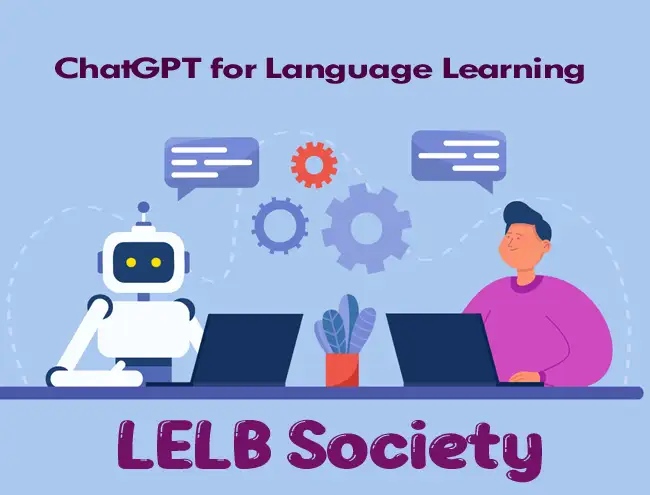 In addition to using the above-mentioned Chrome extensions for students and teachers, LELB Society's registered members are strongly recommended to use ChatGPT for learning languages. ChatGPT is a relatively new advancement in technology driven by artificial intelligence with great potential for language learners.
At LELB Society, as a bilingual academy of English and Persian, our students, teachers, and contributors have this chance to utilize technology in education, e.g. Google Chrome extensions, ChatGPT, etc., and get the most out of genuine human interaction in the form of asynchronous learning at the same time.