601 Words You Need to Know to Pass Your Exam is an extremely advanced vocabulary coursebook published by Barron's Educational Series in 264 pages and written by Murray Bromberg and Julius Liebb.
Table of Contents / فهرست مطالب
Word lists and definitions for 601 Words
601 Words You Need to Know coursebook includes word lists and definitions together with examples for each individual word. However, like 504 Absolutely Essential Words book by the same authors, the examples are instructional and not authentic.
The difficulty level of this book is so high that even some native speakers of English have not heard of some words of 601 Words You Need to Know. Dr. Mohammad Hossein Hariri Asl has found out this point in his Persian classes while teaching native speakers of English who plan to learn Farsi online in our bilingual academy.
601 passages in context for 601 words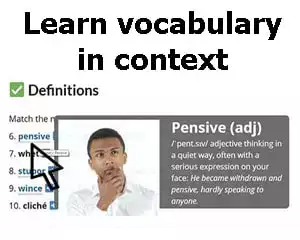 As briefly stated in the preceding paragraph, at LELB Society, all the 601 words in this book are used in reading passages in real context for advanced English learners, such as SAT candidates. Dr. Mohammad Hossein Hariri Asl, the found, developer and chief administrator at LELB Society, has carefully selected 601 passages for all of the 601 words of this book from popular books, magazines, movie scripts, poems, websites, etc.
Accordingly, LELB Society's students can expand their advanced vocabulary and improve their reading comprehension at the same time because they can genuinely learn English vocabulary in context. We have acknowledged the source of each passage after each real context so that our students could further their reading if interested by clicking on the provided link to the original context.
601 flashcards for 601 words in context
Our students at LELB Society can learn all the 601 words in this vocabulary coursebook in authentic or real context. These flashcards are meticulously illustrated that are slightly exaggerated to grab your attention and realize deep leaning. According to recent neurological studies, learning vocabulary with images can add depth and fun to vocabulary learning.
This is mainly because our brain is firstly an image processor and secondly a word processor. As a result, visual learning can yield better retention especially when it comes to mastering abstract vocabulary, namely envy, carpe diem, sarcasm, fidelity, insomnia, and the like.
601 Words You Need to Know Category
To browse all these 601 words at LELB Society, you just need to visit 601 Words category. This category comes in 61 pages and in each page, you can learn 10 words from this vocabulary book. Please note that all the 4,000+ lessons or posts at LELB Society are exclusively accessible only to our registered members on free trial.
To cast more light on the all-in-one educational package of 601 Words You Need to Know category at LELB Society, please consider the following example of just one of the 601 words.
A Cappella Meaning in Singing from 601 Words

A cappella meaning as a technical terms in singing and music from 601 Words You Need to Know to Pass Your Exam. Learn the meaning of a cappella in authentic or real context with synonyms and illustrations. /ˌæ.kəˈpel.ə/ (adj & adv) A cappella meaning (of music or singing) sung without any musical instruments in choirRead…
Interesting points about the origin of words
The readers of 601 Words You Need to Know can learn fascinating facts about the etymology or origin of these 601 words in this book, which per se has made this book much easier to learn and digest.
In 601 Words You Need to Know, you can learn so many words about mythology, society, science, profession, and so forth. We have classified all these words plus the other vocabulary items belonging to the other categories in separate themes and subject matter with the help of the tagging feature in WordPress.
So far, LELB Society's students can access 2,800+ advanced vocabulary in context with images. This growing list of advanced vocabulary covers the following categories:
It is important to note that all these 2800 academic and advanced vocabulary are also thematically organized. On our popular tags page, you can find our most frequently used tags or keywords. Accordingly, all of our 4,000+ lessons in both English and Farsi have been thematically categorized as the following:
Games and puzzles to practice vocabulary
This vocabulary book will provide ESL students with ample exercises, namely puzzles, crosswords, and even games for a more profound mastery of the most abstract vocabulary. That's why this book is recommended to advanced English learners who plan to take standardized English tests, such as IELTS, TOEFL, GRE, SAT and the like.
LELB Society's students can learn these 601 words with synonyms, antonyms and parts of speech to add more flesh to the skeleton of their lexical resources. This way, you can expand your vocabulary greatly while not being necessarily aware of that.
Listening practice with 601 Words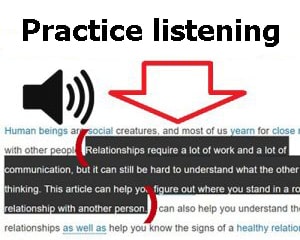 Did you know our students can listen to any selected text to practice listening? We have installed one of the best text-to-speech software programs on our website. Therefore, our students can select any text and listen to it to improve listening comprehension.
Furthermore, at the bottom of each lesson, there is a comment form for our English and Persian students to leave their questions and comments for our detailed and immediate responses and feedback. So far, we have answered over 5,000 comments, and the number is increasing every day.
In the end, we should add that LELB Society as a bilingual academy of English and Persian is only accessible to registered members. As a result, to study 2,800 English vocabulary in real context with images, you need to join our academy, which could be on free trial.
These days, we are developing illustrated flashcards for the book, Vocabulary for the College-Bound Student. Trying to avoid Google's penalty about duplicate content, we mindfully did not create any subcategory for Vocabulary for the College-Bound Student because some of the words in this book are also listed in some other categories at LELB Society.